OFS-2000F Optical Flow Sensor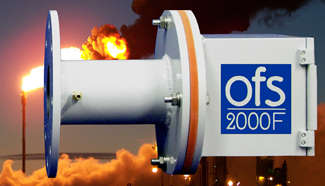 Whatever you call it: Flare Gas Sensor, Flow Monitor, or Flare Analyzer, OFS 2000F is specially developed for refinery flare stack applications where increased velocity scale, wider temperature range, and quick response time are necessary.
OSI's optical scintillation technology provides the most accurate, path-averaged air velocity measurements of any flare gas sensor. It's superiority has bee proven again and again, in flare, air-assisted flare, and SRU (Sulfur Recovery Unit) installations world-wide.
All OFS 2000 models are configurable for many different operating environments.

Click below to download the product brochures in
PDF Format.

OSi OFS-2000F Optical Flow Sensor Datasheet