| | | |
| --- | --- | --- |
| | | Process Combustion Corporation (PCC) has designed, supplied combustion, heat transfer, and pollution control systems worldwide. Headquartered in Pittsburgh, PA, with offices in Beijing, China; and London, England; PCC is recognized as a global leader in pollution control systems. Their creative designs minimize system costs, especially energy consumption, while meeting environmental regulations. |
Bio-Oxidation
Process Combustion Corporationís (PCC) Dual-BioPhase™ system offers an innovative bio-filtration process that achieves an entirely new level of performance for biological air treatment systems.




Bio Oxidation is a biological process that uses microorganisms to convert HAPs, VOCs, and Odors into harmless by-products of carbon dioxide (CO2) and water (H2O).

Application: High Flow Rate, Low Concentration Contaminated Gas Streams. Especially Engineered Wood Products (OSB, MDF, Pellets, etc.), Textile, Pulp and Paper, Specialty Chemical, Industrial Compost, Bioenergy, Biofuel, Biomass Energy Plants, Asphalt Shingle Manufacturing, Wastewater Odor, Food Manufacturing.
Click below to download the product brochures in
PDF Format.

PCC Bio-Oxidizer Brochure
Flameless Thermal Oxidizers
Process Combustion Corporation's Flameless Thermal Oxidizer (FTO) systems are the best solution for applications that require the highest Destruction Removal Efficiencies (DRE) and lowest NOx emissions. Each FTO is fully automated and engineered to accept the full range of waste gas compositions and flow rates generated by our customer's manufacturing process.




Turbulence: A PCC Flameless Thermal Oxidizer perfectly mixes waste gas, air, and fuel gas. This allows excess oxygen to more successfully find and react with organic material in the gas mixture once preheated to each compounds auto-ignition temperature.
Time: The flow through a PCC Flameless Thermal Oxidizer involves multiple seconds of residence time at high temperatures. Because perfect mixing has already been achieved, high gas velocities are not required. As a result, the flow through each unit can be slower leading to longer retention times for oxidation reactions to reach completion.
Temperature: Each PCC Flameless Thermal Oxidizer operates with a completely uniform temperature profile that means the entire gas flow passes through a bed with a constant temperature profile to ensure that optimum destruction is achieved.
Industries Served: Chemical, Petrochemical, Pharmaceutical
Click below to download the product brochures in
PDF Format.

PCC Flameless Thermal Oxidizer (FTO) Brochure
Regenerative Thermal Oxidizers (RTO)
Regenerative Thermal Oxidizers (RTOs) destroy Hazardous Air Pollutants (HAPs), Volatile Organic Compounds (VOC's) and odorous emissions. PCC's systems achieve emission destruction through the process of high temperature thermal oxidation, utilizing the 3 T's of Destruction, Time, Temperature and Turbulence, at the proper oxygen level to convert the pollutants into carbon dioxide and water vapor.




PCC's RTOs are designed to repurpose the thermal energy generated during operation, reducing the energy consumption and operating costs.




Industries: Chemical, Petrochemical, Refining, Automotive, Pharmaceutical, Textile, Manufacturing, Converting, Metals, Food, Engineered Wood Products, Pulp & Paper
Click below to download the product brochures in
PDF Format.

PCC Regenerative Thermal Oxidizers (RTO) Brochure
Thermal Oxidizers
Thermal Oxidizers reduce air pollution emissions from a variety of industrial processes. Using the principle of "thermal oxidation," a combustion process, the contaminants within the polluted exhaust gas react with oxygen in a temperature controlled environment. The chemical oxidation reaction destroys the contaminants in the polluted exhaust gas before discharging it back into the atmosphere. What is released is an innocuous emission of CO2, water vapor, and heat.




Thermal Oxidizer Industries include: Chemical, Petrochemical, Automotive, Pharmaceutical, Oil & Gas, Asphalt, Carbon, and Food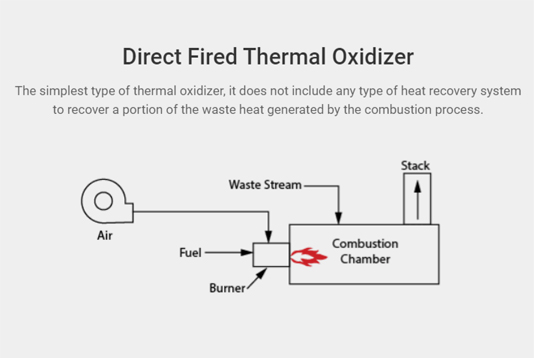 A Direct Fired Thermal Oxidizer System typically includes:

| | | |
| --- | --- | --- |
| • | | Burner |
| • | | Combustion Chamber |
| • | | Blower |
| • | | Air/Fuel Train |
| • | | Instrumentation and Controls |
Typically, less expensive than other types of thermal oxidizers, direct fired thermal oxidizers will incur higher operating cost (fuel use) for waste streams that are endothermic.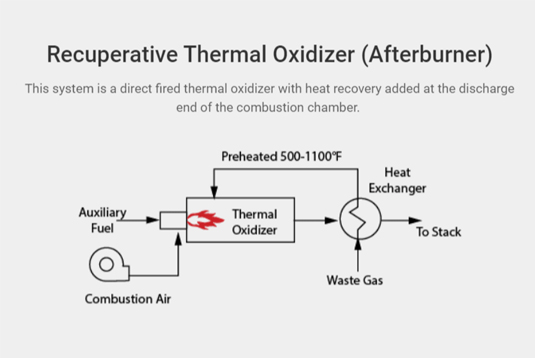 Downstream heat recovery equipment uses the available heat produced within the thermal oxidizer combustion chamber to reduce auxiliary fuel consumption, produce steam, heat a process air stream, or heat a liquid stream. A recuperative thermal oxidizer system can have a single heat recovery device or multiple heat recovery devices.
In addition to the recuperative thermal oxidizer systems shown above, a recuperative thermal oxidizer can incorporate:

| | | |
| --- | --- | --- |
| • | | Combustion Air Preheat to Conserve Fuel |
| • | | Other Heat Recovery Equipment such as a Hot Oil Heater, Hot Water Economizer, or Asphalt Heater |
Recuperative thermal oxidizers can treat multiple gaseous and liquid waste streams that are endothermic and/or exothermic.
Click below to download the product brochures in
PDF Format.

PCC Corporate Overview Brochure