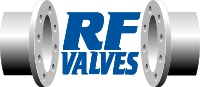 Industry-Leading Valve Solutions
From our heavy-duty, state-of-the-art valves to our on-demand technical service, RF Valves provides the best global distribution and sales network in the industry.
RF Valves serve the following industries: Municipal, Mining, Chemical, Power, Pulp & Paper, Food, Desalination and other industrial applications.
RF-INSAMCOR LW, MH, MLB, PB, and RF-SKG Knife Gate Valves
RF Valves offers a range of heavy-duty knife gate valves that meet the most rigorous and demanding conditions, offering world-class performance in abrasive and corrosive materials, as well as bulk solids.




Our knife gate valves feature the latest in design and technology, including our patented elastomer sleeves, yielding the most low-maintenance knife gate valves on the market today.




The RF Valves knife gate valves were developed and refined in conjunction with mineral processing end-users to solve the problems typically experienced in harsh mining conditions. Today, our SKGs are used in a wide array of industries and applications, including mining, coal washing, coal power generation, steel and more.




Benefits Include:
•
150 psi (CWP (10 bar) Pressure Rating
•
Bi-Directional Flow & Shut-Off
•
Field Replaceable Elastomer Sleeves
•
Open & Closed Indicators
•
Pass-through & Sealed Designs
Click below to download the product brochures in
PDF Format.

RF Valves Insamcor - MH Catalogue
RF Valves Insamcor - MLB Catalogue
RF Valves Insamcor - PB Catalogue
RF Valves Insamcor - LW Catalogue
RF Valves RF-SKG Catalogue