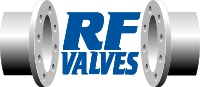 Industry-Leading Valve Solutions
From our heavy-duty, state-of-the-art valves to our on-demand technical service, RF Valves provides the best global distribution and sales network in the industry.
RF Valves serve the following industries: Municipal, Mining, Chemical, Power, Pulp & Paper, Food, Desalination and other industrial applications.
RF Valves & aiRFlex Pinch Valves
RF VALVE® & aiRFlex® pinch valves meet the most rigorous service conditions. Our patented elastomer tube fold design prevents stretching and extends the sleeve life to result in valves that last. We provide proven engineered solutions to our customers.




Proven Pinch Valves Products include Pneumatic, Manual, Electric, Hydraulic and aiRFlex.




Benefits Include:
•
Patented No-Stretch Tube Folds
•
SMART Valve™ Monitoring System
•
Trouble-free Operation
•
Quick Tube Change
•
ASME Standard Face-to-Face Dimensions
Click below to download the product brochures in
PDF Format.

RF Valves aiRFlex Brochure
RF Valves Trifold Brochure
RF Valves Catalog