Your Needs Have Been Met by BriskHeat since 1949!
In 1949, BriskHeatŪ was founded by retired Two Star Major General Earnest Briscoe. BriskHeat manufactures flexible surface heating elements and controls / accessories for unlimited applications. Petrochemical, semiconductor, food processing, biotech, aviation, steel, laboratory, power generation and many other industries have found their solution with our heating products.
A broad range of experience in solving your applications for viscosity control, condensation prevention, process heat, and freeze protection has allowed BriskHeat to become the world-wide leader in flexible surface heat and heat trace applications for piping, vessels, pumps, valves, and other objects.




Large projects or small, high volume or low, US or world-wide, BriskHeat stands by to help you work through any surface or object heating issues you might encounter.
With a staff of applications engineers experienced at helping you find the most economical solution for your needs, BriskHeat continues to consider you are our most important customer.
The BriskHeat® Difference
| | | |
| --- | --- | --- |
| • | | Over 60 years of Industrial Heating Experience |
| • | | Reduced Installation Cost with Exclusive one-piece design is easier-to-install and handle |
| • | | Patented 360° grounded multi-stranded heating element with Maximum Uniformity, Durability & Safety and BriskHeat® Exclusive Core Technology |
| • | | Heaters Never Corrode or Rust |
| • | | 5 Year Warranty |
Applications
Eliminate Bridging, Pluggage, Condensation, and Corrosion on:
•
ESP (Electrostatic Precipitator) Hoppers
•
Baghouse Hoppers
•
Most Material and Dust-Collector Hoppers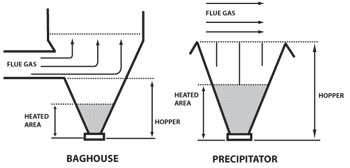 Click below to download the product brochures in
PDF Format.

BriskHeat Hopper Surface Heating System Brochure
BriskHeat Full Line Hopper Heaters Catalog