Demanding Technology – Versatile in Application
| | | |
| --- | --- | --- |
| | | For more than 50 years, Hiller Separation & Process has been developing and manufacturing decanting centrifuges and complete plants for solid/liquid separation at its state-of-the-art production facilities in Vilsbiburg, Germany. Since 2018 Hiller GmbH is a member of the Swiss Ferrum Group. |
Hiller Decanting Centrifuges Meet Your Separating Needs!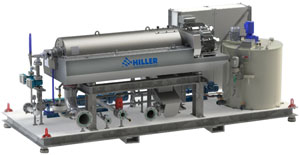 A centrifuge is a highly versatile machine in usage for the highly efficient separation of solid substances with simultaneous separation of liquid phases.
Working Principle of a Decanter-Centrifuge
Typical applications of Hiller decanting centrifuges include environmental technology and sewage treatment, food and luxury goods, extraction and processing of mineral oil, gas and renewable energy as well as in the field of tunnel technology and mining, and the chemical-, processing and pharmaceutical industries.
Tailored to Their Customers' Needs
Custom-built decanting centrifuges tailored to specific customer requirements as well as turnkey plants are Hiller's speciality. Their decanters can be custom-designed for a wide variety of needs. Examples include applications requiring explosion protection and thus designed in line with ATEX or food decanters in different hygiene versions, depending on the product. Their customers and their needs are always at the forefront in designing our decanters.
Click below to download the product brochures in
PDF Format.

Hiller Separation & Process Decanter Centrifuges Flyer
Hiller Separation & Process Decanter Centrifuges Brochure