Tranter SUPERCHANGER® Plate Heat Exchangers
Your Chief Benefit—High Efficiency with Life Cycle Support

Tranter is soon entering its fifth decade engineering, manufacturing and supporting gasketed plate heat exchangers. We have listened carefully to our customers. Beyond simply purchasing a plate heat exchanger that meets a specific need, customers tell us they want an added-value solution with maintenance-friendly designs and life cycle support. We have responded with significant investments in global coverage with a local presence. We are committed to extending our support to you through our specialized Service Center network, with preventive maintenance services and emergency uptime restoration service devoted solely to plate-type heat exchangers.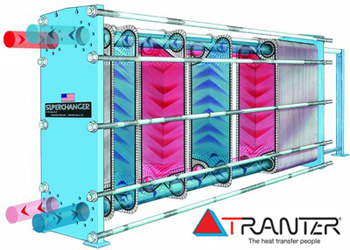 Modularity for Flexibility
The Tranter Plate Heat Exchanger provides outstanding efficiency transferring heat from one liquid to another or from steam to liquid. This modular exchanger combines frames, plates and connections to form a variety of configurations. By using different types of plates, with different characteristics, the exchangers can be adapted to a wide variety of applications. The exchangers can easily be disassembled for inspection, maintenance or even expansion by adding plates.
High Heat Transfer Rates
The flow turbulence created by Tranter Plate Heat Exchangers promotes maximum heat transfer. With their high efficiency, the exchangers can handle temperature approaches of less than 1°C (2°F). The unit also offers "U" or "K" values 3 to 6 times higher than shell & tube exchangers.
Tranter is a market leader in the development of high-efficiency plate pattern designs and flow configurations. Among these are Ultraflex plate patterns, our unique, neutral-plane gasket groove design and the ability to configure our units in either a parallel or a diagonal flow configuration. These options improve the utilization of available pressure drops and increase the efficiency of our units. Our diagonal flow option is especially important on larger flows and low NTU duties.
Compact Design
With its high efficiency, the Tranter Plate Heat Exchanger conserves footprint and floor loading far beyond what is possible with an identical duty shell & tube heat exchanger. A Tranter Plate Heat Exchanger can fit into 20–50% of a shell & tube footprint including service and maintenance space. This compact footprint makes productive use of tight spaces, especially important with production expansions. Lighter weight makes transportation and rigging less costly. And, it costs less.
Self-Cleaning Action
The unit's velocity profile and induced turbulence causes dirty product deposits to be continually removed from the heat transfer surface during operation, thereby reducing fouling. The plate turbulence also enhances the effectiveness of water backflushing and cleaning in place (CIP) procedures with less frequent need to disassemble the exchanger. Plates can be electropolished to make cleaning easier, either manually or in-place. The unit opens within its own footprint simply by loosening the tie-rod bolts and rolling the movable frame back to the support column.
Click below to download the product brochures in
PDF Format.

Tranter SuperChanger Plate & Frame HE Brochure
Tranter SUPERMAX® Shell & Plate Heat Exchangers
| | | | | |
| --- | --- | --- | --- | --- |
| | | | | |
| Fully Welded Shell & Plate | | Thermal Element Plate Core Subassembly | | Proprietary Cage Structure |
Extending Capability Into Even Tougher Duties
The Tranter Shell & Plate Heat Exchanger is designed as a performance upgrade over shell & tube, block-type welded and brazed aluminum heat exchangers. The exchanger offers high thermal performance with compact size, similar to that of gasketed plate heat exchangers, with low hold-up volume and low installed weight, especially when filled.
Now in its second generation of refinement, today's Shell & Plate Heat Exchanger is the fruit of Tranter's Welded Competence Center in Artern, Germany. Combining field experience with design input from Tranter's global R&D operations, this test bed of advanced manufacturing processes and equipment has introduced extended-capability refinements. We are now only beginning to explore the shell & plate exchanger's potential in ever-more-difficult duties. In addition to design improvements, we have added larger plates and extended-thermal-length oblong plates to the product line.
Designed To Distribute Stress
The heart of the Tranter Shell & Plate Heat Exchanger is its heat transfer element, also called the plate core, composed of round or oblong chevron-type plates welded into a cassette by a porthole perimeter weld. Cassettes are then placed together welded to each other using a perimeter weld.
The thermal element subassembly then has metal shell-side flow diverters, nozzles and an end plate welded to it. An exclusive cage structure (see picture), welded only to the end cover, surrounds and supports the plate core pack assembly. The cage prevents any cantilever stresses from being transferred to the plate pack. The result is a pressure vessel of high integrity, with an accordion-like core that is highly tolerant of thermal expansion.
The construction is more robust than in gasketed units, shell & tube exchangers and welded block-type square welded units. There are no gaskets to replace or fail. There are no tubes to vibrate under upset flow conditions and induce stress to welds, baffles and supports, with early failure the result. The fully welded round or oblong design, involving both plate port and perimeter welds, is an optimal stress-distributing shape; there are no 90° corners and edges subject to stress failures as with block-type plate heat exchangers.
Field-Proven Durability
Operational durability has been outstanding. Units shipped after passing our factory standard pressure and helium leak tests have logged an extremely low failure rate in the field. Additional available manufacturing process NDEs include dye penetrant examination (all weld joints); x-ray (applicable weld joints); UT (applicable weld joints); and helium mass spectrometer (entire unit).
Duty-Matched Materials
Plate materials may be Type 316L stainless steel, titanium or other alloys; shells may be fabricated of carbon steel, Types 304, 316, 316L stainless and titanium. The unit can be fabricated from dissimilar metals when only one side will be exposed to corrosive conditions.
Click below to download the product brochures in
PDF Format.

Tranter SuperMax & MaxChanger Products Brochure
Tranter MAXCHANGER® Mini-Welded Heat Exchangers
A quick look at the MAXCHANGER® Mini-Welded Heat Exchanger may lead you to dismiss it as a compact brazed heat exchanger (CBE) type. Yet there is nothing brazed in this unit—its standard materials are all-welded 316L SS or titanium. In most applications and even under extreme conditions, compared to other smaller size heat exchangers, MAXCHANGER is truly worth a second look.




Further enhancing its compact footprint, the MAXCHANGER offers flexibility in nozzle positioning. This helps the unit to fit virtually any ultra-compact heat exchanger requirement. This footprint flexibility makes MAXCHANGER truly the design engineer's friend. With MAXCHANGER durability, the unit will often outlive the system service life, eliminating the need to design for service access and more added space.



Much Smaller and More Efficient Than S&Ts
MAXCHANGER is not only robust, but it is also efficient. This gives the exchanger an enormous heat transfer edge over shell & tube exchangers. The unique dimpled plates, combined with countercurrent flow, produce extremely high "U" or "K" values, immediate thermal response and a close temperature approach capability of less than 1°C (2°F). High turbulence prevents fouling or scaling that wastes energy and requires disassembly of S&Ts for cleaning.
All in all, MAXCHANGER gives you shell & tube performance under demanding conditions, for a fraction of the installed mass and footprint, with the bonus of energy and maintenance savings.
Click below to download the product brochures in
PDF Format.

Tranter SuperMax MaxChanger Welded Products Brochure
Tranter PLATECOlL® Prime Surface Heat Exchangers
Tranter PLATECOIL® Prime Surface Heat Exchangers deliver efficient and uniform thermal control in immersion duty; jacketing vessels, reactors or dryer shells; within fluidized beds or configured as gas phase heat recovery banks. In thermal processing of any kind, PLATECOIL exchangers give you better thermal control than pipe coil, half pipe, dimple sheet or gridcoil.




Processors worldwide have used PLATECOIL to:



| | | |
| --- | --- | --- |
| • | | Eliminate sparging for reduced water and steam consumption |
| • | | Capture waste energy from moist, wet flue gases at temperatures as low as 67°C (150°F) |
| • | | Recycle low-grade heat energy from drains |
| • | | Improve economic performance in existing tanks and vessels using clamp-on retrofits |
These highly versatile exchangers conform to ISO 9001 standards for design, manufacture and testing for either one-off, special fabrications or high-volume engineered subsystems. Consider all the factors—flow rate, flow balance, heat transfer coefficient, durability—PLATECOIL is engineered and crafted for faster start-ups, constant temperatures, better control and longer service life.
Engineering Shapes PLATECOIL® Efficiency
Essentially two sheets welded together, one or both of which is die-formed, PLATECOIL panels comprise a series of passages through which a heating or cooling media flows. Three styles of Multi-Zone and two styles of Serpentine flow configurations ensure that you get the right combination of flow rate and heat transfer rate with steam, gases or liquids. In designing individual solutions with PLATECOIL, Tranter engineers use advanced computational fluid dynamics (CFD) modeling to determine factors such as heat transfer coefficients and convection effects.
PLATECOIL flow patterns applied for steam provide reserve capacity to compensate for intermittent overloads during start-ups, distributing steam virtually instantaneously to all levels of the plate. Under load swings, PLATECOIL attains desired operating temperatures extremely rapidly, with minimum variation. PLATECOIL styles for liquid heating or cooling media, including hot oil or refrigerants, promote high internal flow velocities for high heat transfer rates.
More than 300 sizes are available, with widths ranging from 305 mm to 1090 mm (12 in. to 43 in.) and lengths spanning 585 mm to 3630 mm (23 in. to 143 in.). A wide variety of materials, gauges and finishes are available. Connection options are 3/4 in. to 2 in. NPT or flange.
Light Gauge, Corrosion-Resistant ECONOCOIL®
ECONOCOIL® hydraulically expanded panels are a special PLATECOIL variant available in an assortment of single-embossed or double-embossed styles and sizes in serpentine or parallel passes. Titanium construction provides long service life where highly corrosive environments exist. Light-gauge titanium ECONOCOIL panels provide better thermal conductivity than units constructed from heavy-gauge material. High turbulence results in low scaling/fouling tendency on external and internal surfaces.
Typical ECONOCOIL Applications:

| | | |
| --- | --- | --- |
| • | | Sulfate chrome plating solutions |
| • | | Chromic acid, 10% boiling |
| • | | Nickel plating solutions (except electroless nickel with fluorides) |
| • | | Inhibited sulfuric acid |
| • | | Inhibited hydrochloric acid |
| • | | Hypochlorites |
| • | | Seawater or salt brine |
| • | | Chlorinated hydrocarbons |
| • | | Flue gas heat recovery |
| • | | Stack gas heating |
Click below to download the product brochures in
PDF Format.

Tranter Platecoil Brochure
Tranter Spiral Heat Exchangers
Tranter Spiral Heat Exchangers are outstanding where cleaning of both channels must be frequent (right) and in condensing duties of pure and mixed vapors with non-condensibles.




The Single-Channel Alternative

Heating or cooling of particle-laden or viscous fluids is a difficult duty for most types of heat exchangers. Spiral heat exchangers with their compact, single channel design are ideally suited for outstanding thermal and uptime performance in these duties.
Spirals can attain high heat-transfer coefficients with particle-loaded fluids, while avoiding fouling, plugging, unequal fluid distribution or dead spots in both channels. Other significant duties involve vapor/liquid and gas or vapo/liquid service where the spiral's sub-cooling capability and long condensation path maximizes recovery.
Plugging Resistant and Easily Cleanable
The spiral heat exchanger's single flow channel is inherently self-cleaning and fouling-resistant, because flow cannot bypass an obstruction. As a result, the flow distribution within both channels remains even and steady throughout the exchanger. Temperature differences between the fluids of less than 3°C (5°F) can be reached. The shell & tube unit instead develops an uneven temperature profile caused by fouling, tube plugging and poor flow distribution, with both dead spots and eroded surfaces.
In particle-laden service, any heat exchanger must be installed with provision for ease of cleaning. Here, the compact and thermally efficient spiral, able to be cleaned virtually within its own physical footprint, has a tremendous advantage. Not only is the shell & tube of equivalent thermal duty much larger, but it also requires more than twice its installed footprint for the tube bundle to be pulled for cleaning. Thus in retrofit service, the compact spiral exchanger can be readily integrated within existing footprints with low installation costs.
With its easily openable, hinged end covers, the spiral provides ready access to both channels for visual inspection and cleaning. The shell & tube unit must be laboriously disassembled to inspect the shell side, and special scopes are necessary to inspect each tube individually.
Specially Designed and Built to Perform and Last
The Tranter Spiral Heat Exchanger design is based on two or four metal strips, onto which spacer studs are welded and then wound around a core, using a continuous, single-thickness strip from core to shell. This is a distinct improvement over other designs that use multiple strips of different thicknesses butt-welded together that could lead to premature failure. In addition, Tranter's design has a Code-conforming, truly round shell enabling better gasket and end cover sealing than the non-circular traditional design.
Tranter also offers multiple center core designs to precisely suit the flow distribution and durability demands of individual applications. The duty-optimized core, together with the spiraling channels and studs, create turbulence at low Reynolds numbers. Heat transfer is enhanced, while fouling is reduced.
A spiral exchanger by nature must be quickly openable, cleanable and closable, and yet leakproof during operation. The Tranter Spiral Heat Exchanger has special design features for productivity, sealing integrity and long life. Tranter exchangers have robust saddle supports, a sturdy saddle-mounted post and reinforced hinges to eliminate sagging and maintain cover alignment. Our M30 (1-1/8 in.) diameter clamp bolts ensure a tighter seal without deformation or fatigue that may occur with lighter clamp bolts. We think you will agree that Tranter's attention to the design details promises you a spiral exchanger that saves money.
The spiral heat exchanger is a special-purpose, custom-engineered process system. Because of this, Tranter understands your need for an accountable partner from concept through life-cycle operation, including documentation, process engineering support, response to proposal needs and customer service spanning installation, startup and operation.
Click below to download the product brochures in
PDF Format.

Tranter Spiral Heat Exchanger Brochure
Tranter HES Spiral Heat Exchanger Brochure
Tranter Parts & Service
In addition to as-needed preventive and emergency services, Tranter offers tailored service contracts to reduce process downtime and give you known costs for more accurate maintenance budgeting. In certain cases, an available plate pack changeout and exchange program provides sensible, economically justifiable uptime insurance. Tranter stands behind its work, with a one year warranty on new parts, and a guarantee on workmanship and labor for on-site service jobs. You will be informed of any issues as they arise to keep downtime to an absolute minimum.




Energy consumption rising? Heating or cooling performance out of control? It could be that your plate & frame heat exchangers need reconditioning. Now is a good time to make sure your PHEs are performing up to specifications.




Clean PHEs Save Money
Dirt, deposits, scale and other foulants rob your PHEs of their efficiency. Continuing to operate them risks damage to your plates—damage that could lead to leaks, faulty operation and reduced exchanger service life. Faulty PHEs in turn pose damage risks to upstream and downstream equipment with expensive, unscheduled downtime for repairs.
All Brands Welcome
If cleaning or regasketing is warranted, doing the job properly can prevent this expensive damage. There are no better qualified people to refurbish your PHEs than the experts at Tranter Service Centers. Our experienced service teams safely clean and regasket your plates, returning them to peak efficiency, with all work guaranteed by written warranties covering materials and workmanship. Your exchangers don't even have to be Tranter SUPERCHANGER® units, either. We service all popular makes and models, including Tranter, Alfa Laval, APV, Graham, Sentry, Mueller, Polaris and others.
Click below to download the product brochures in
PDF Format.

Tranter Parts & Service Brochure