| | | |
| --- | --- | --- |
| | | BIAZZI has been building plants for explosives manufacture since 1936. To date more than 250 units have been realized. More than 50% of worldwide Nitroglycerine production spread over 5 continents uses BIAZZI technology and benefits from their outstanding safety record. |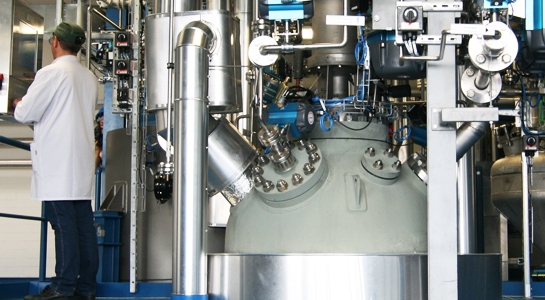 BIAZZI's High Performance Reactor Systems (BHPR); batch or continuous offers Benefits like:
•
Highest Safety Standards
•
Optimum Mass-Transfer and Heat Removal
•
Optimum Catalyst Consumption
•
Lowest Overall Operational Expenditures (OPEX)
•
Lowest Capital Expenditure (CAPEX)
Shortest Time to Market, thanks to BIAZZI's direct Upscaling from laboratory to any size of industrial scale reactor up to 60 m3, including guarantees covering daily output, product yield and quality, catalyst consumption, etc.

BIAZZI's reactor for hydrogenations and other gas-liquid reactions has been specially developed to provide products of very high quality in an economic way and in safe conditions.


BIAZZI has developed a high-efficiency hydrogenation reactor (Gas/Liquid-reactor) of unique design which consists of:

•
The High-Performance Reactor
•
The agitation unit with a very high mass transfer rate (kLa value). The agitator is driven by means of a practically maintenance-free magnetic coupling system.
•
The reactor internal heat transfer plates enabling a high heat transfer exchange inside the reactor.
BIAZZI offers complete automation of your project from initial study to engineering to commissioning. Biazzi even handles the training.
Click below to download the product brochure in
PDF Format.

Biazzi Hydrogenation Flyer
BIAZZI Company Flyer
BIAZZI Services Brochure
BIAZZI Services Flyer
BIAZZI Presentation
BIAZZI Units Flyer